by Prof. Hangen - October 19th, 2010
This week's something of a light one. You have the scholarly article "autopsy" due on Tuesday 10/19, and in class we'll screen a documentary about Las Vegas that aired on PBS recently. We've been talking about traveling entertainments and about the development of amusement as a (very lucrative) American business industry. With this film, we begin a conversation about two places in the US (Las Vegas and New Orleans) that have excess, entertainment, guilty pleasures, and vice/fraud as their main reasons for existence. Both cities, ironically, are built in places where a city really shouldn't be built–in other words, these places are constructed on fantasy and risk to begin with, and both definitely have a carnival vibe. We'll look at New Orleans later in the term, and also at other "stationary" amusements like Coney Island, Atlantic City and its famous boardwalk, and the worlds of Disney.
On Thursday 10/21, we'll return to Janet Davis's book on the Circus Age, and see how she ends the story. As the "great age" of the traveling railroad circus ended, what happened to this thriving industry? What has its legacy been in American history and culture (besides the persistence of the "Greatest Show on Earth" circuses, albeit in very truncated form, and marketed–as you saw in Worcester–primarily to small children)?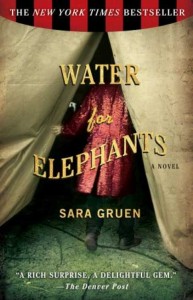 Over the next week or so, we'll be beginning to read and discuss Sara Greun's novel, Water for Elephants. It's new historical fiction, but set in the 1930s at the twilight of the traveling show & during the Great Depression. The novel alternates between the protagonist's memories of having been a circus veterinarian & the lover of a bareback rider, and his present-day life as an elderly resident in a retirement home. You'll no doubt recognize some of Davis's and Bogdan's themes in this novel, as well as prose images drawn from the Wisconsin Historical Society's photographic collection on the circus and from the Ringling and/or Barnum Museums and archives. The novel may help serve as a model or inspiration as you write your own chapters this coming month. (By the way, there's a major feature film of this novel in production now. The release is in April; it stars Robert Pattinson and Reese Witherspoon – fan site with film info here). You'll do your 5th History Lab exploring how novels work as historical sources & what value they might have for people interested in the past – it's due on Tuesday 11/2, so I'd recommend starting the novel well ahead of time.