by Prof. Hangen - September 7th, 2010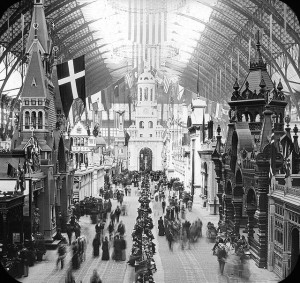 For our first several class sessions we will discuss Erik Larson's nonfiction book, The Devil in the White City. It's a true tale of Gilded Age ambition and excess in the raw, chaotic city of Chicago in the early 1890s. Over the next few class sessions, we'll be looking at how Larson narrates this complex story, and as the events unfold we will learn about the era, the historical actors, the contradictory cultural values contained in the fair, and about the fair's impact on American amusements and on American society.
We'll also be introduced to our first History Lab, which is concerned with how to (critically) read a Wikipedia article. This is a web resource we all use, and which (unlike much of the web) is utterly transparent in its means of production, yet few of us bother to understand or to interrogate those means. This lab is designed to help you do just that, through a close analysis of a single article.
Links You May Need for History Lab 1 (due on Thursday 9/9)
Wikipedia Category Page: Circus_Proprietors
How to edit: Wikipedia offers a "sandbox" page where you can learn about and practice making changes to a page; try it here: http://en.wikipedia.org/wiki/Wikipedia:Introduction
Wikipedia: Introduction
Wikipedia: Five Pillars
Wikipedia: What is Is and Is Not
And… gratuitous "freak" clip of the day – found when I opened my Comcast inbox this morning. How ironic.
Want more on the Columbian Exposition? Some great websites –
Entry from Encyclopedia of Chicago
Digital Archive of Fair Images (Illinois Institute of Technology)
Overview from the Chicago Historical Society
A Hypertext Thesis About the Fair (University of Virginia Crossroads Project)
A Flickr Set of photographs from the Brooklyn Museum (these two photos come from this collection)
Trailer of "Magic of the White City" (2005 documentary)
High Above Lake Michigan (Nate DeMeo, The Memory Palace podcast, 16 June 2009)
Official Catalogue of Midway Attractions (Rice University)
Real-Time Virtual Simulation (UCLA)