by Dr. H - April 13th, 2018
In our last unit, we explore the history of the United States since the 1950s. This unit includes a final Skillbuilder, Constitutions Module #3, and a project about American recent history, due on May 4.
Exam #4 (not a final, just the 4th unit exam) will take place on Monday May 14 at 8:30 in Eager Auditorium.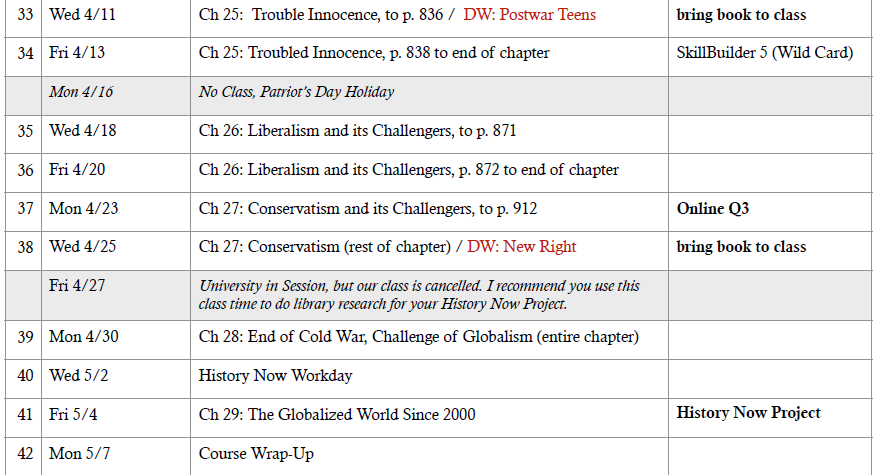 Link from Wednesday, April 11 – "Two Ford Family" commercial
Handout for Wednesday, April 11 – Questions for Chapter 25
Link from Friday, April 13 – Eyes on the Prize, Part I (it's a 6-part series, highly recommended viewing)
Link for Wednesday, April 18 – Excerpt from JFK Inaugural speech and Sam Cooke, Change Gonna Come
Links for Wednesday, April 25 – All in the Family and Foner on Conservatism
Links for Monday, April 30 – George HW Bush Defines "New World Order" (Sept 1990) and Interactive Map of 200 Years of US Military Deployments (ABC News Australia)
Guidelines for History Now Project (topic due Mon 4/30, project due Fri 5/4)
Link for Wednesday, May 2 – "The World in a TShirt" project (NPR / Planet Money)
Link for Friday, May 4 – George W. Bush Addresses the Nation on 9/11/01 and Obama 2016 WHCD
Supplemental Reading for Monday May 7: The Culture Wars Are Dead and Bill Gates on How the World Will Change by 2030